eCommerce Checklist [part 1]: 14 Essential Elements of a Modern Online Store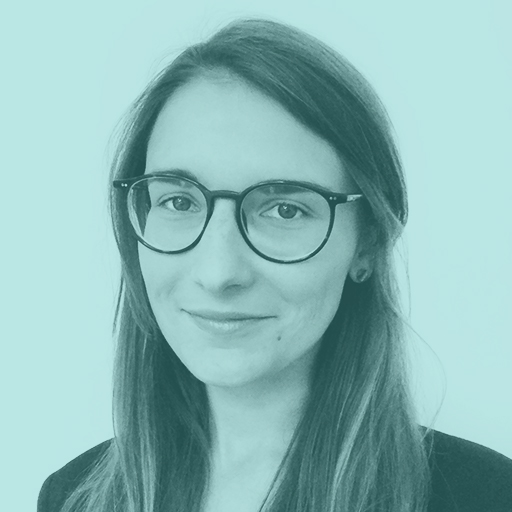 Zuzanna Pajorska
13 August 2021
14 min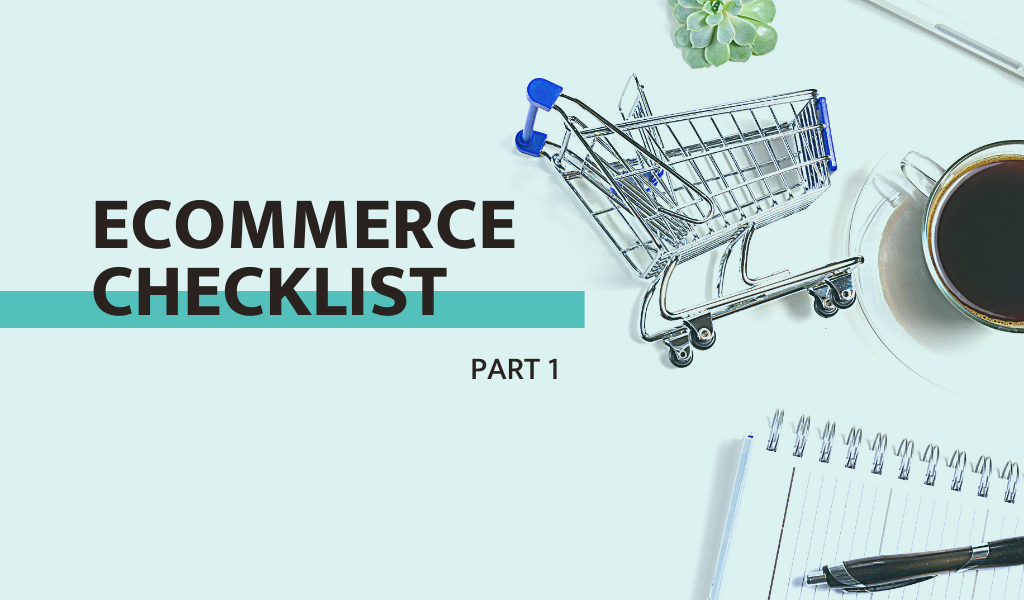 In order not to fall behind the competition, the online store should be modern and use various innovative solutions and functions to improve its operation.

We have prepared a checklist of 25 mandatory elements of every modern online store, which we have divided into two parts..

In Part One, you will find 14 tips on how to build an online store to be user-friendly.

Table of content:


Product page
Category page
Readable homepage
Personalization
Detailed product description
Notification of product availability
Professional product photos
Mobile version
Comparison of prices and specifications
Search engine
Simple navigation through the store
Chatbot - virtual assistant
Personalized product recommendations
Opinions





Privacy Policy and cookies
Easy payment
Blog
Newsletter
Social media
Dedicated mobile application
Loyalty system
Express delivery
Automation of returns and complaints
Order management
Simple registration and logging in via social media
A modern online store - what does it mean?
eCommerce, also known as electronic commerce or Internet commerce, is the process of buying and selling goods or services via the internet.

A modern online store is the one that uses innovative technological solutions, such as artificial intelligence and machine learning, in order to improve its operation and focus on the user.

A company operating online in 2021 must strongly focus all its activities on the customer, so that their experience with the store is pleasant and problem-free.

Both well-thought-out website design and an easily accessible mobile application can help in this, as well as innovative solutions for eCommerce that increase personalization.

These activities will certainly have a real impact on conversion rates and other KPIs of the online store and, most importantly, will ensure that the company will be modern and stand out in this extremely competitive market.

We write about how to approach it in our eCommerce checklist.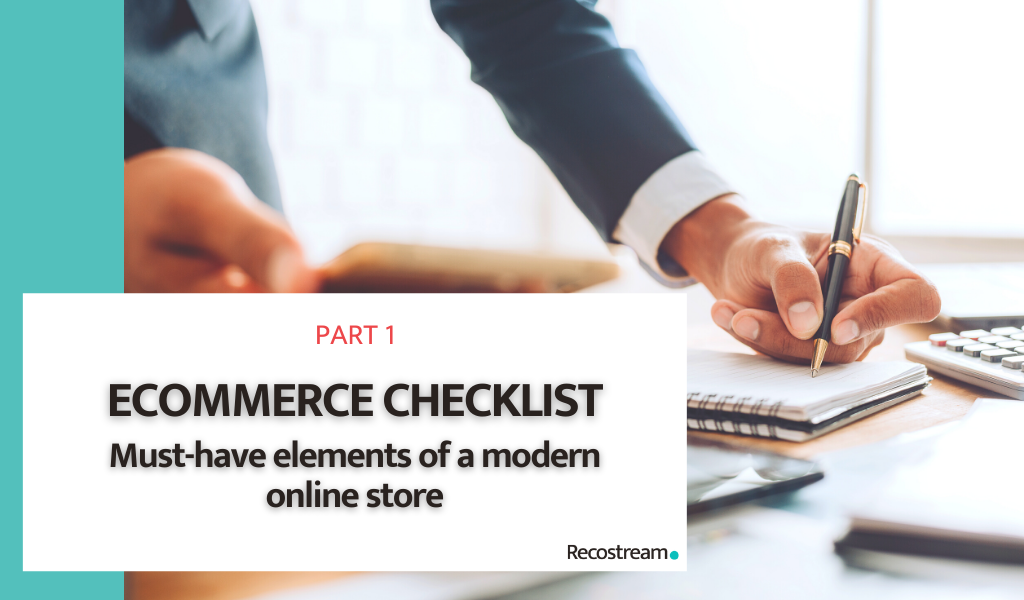 1. Product page
You might wonder which subpage of the online store is the most important.

The answer depends on a great many factors that we will not deal with today. However, it is worth bearing in mind that many consumers start their shopping journey on the product page, otherwise known as the product card.

Potential customers search for a specific product and find their way to the store's website via a search engine, PPC advertising or recommendation. The role of the store at this point is therefore not only to encourage you to buy this product, but also to continue shopping and get to know other items.

That is why we will start our checklist of the necessary elements of an innovative online shop from the product side.

How to design it well? What not to miss when adding a new product to the store's offer?

Please see the advice below for the product sheet. We will write about some of them in other sections of the checklist.
Product information - the product description should be exhaustive and marked with keywords not only for better visibility in search engines, but also so that the customer does not have to spend time looking for information about the product in other places.
Professional and simple photos focusing the most attention on the product (we will write more about the photos themselves in point 7).
Show all possible variations of a given product. For example, if you sell shoes in different colors and sizes, present each of them on the product page.
The CTA, the call-to-action button, should contrast with the background and contain a short and simple message (most often: "Add to Cart").
Information about product availability - if it is unavailable, notify when it can be expected back. It is also worth encouraging customers to leave an email address so that they can receive information that the product is already available for purchase. Additionally, you can propose other, similar products in the recommendations to redirect traffic to the available product.
If you have a brick-and-mortar store, insert the "Check availability in store" button and a pop-up with the location of stores where the product is available. In this way, you will give customers the opportunity to choose which way they will buy - traditional or online.
Suggest a similar or complementary product (cross-selling) - Product page recommendations are the most effective of all the locations on the page. We write more about the recommendation windows in point 13.
Post social proof - on the product page it is worth adding customer opinions in the form of comments or ratings.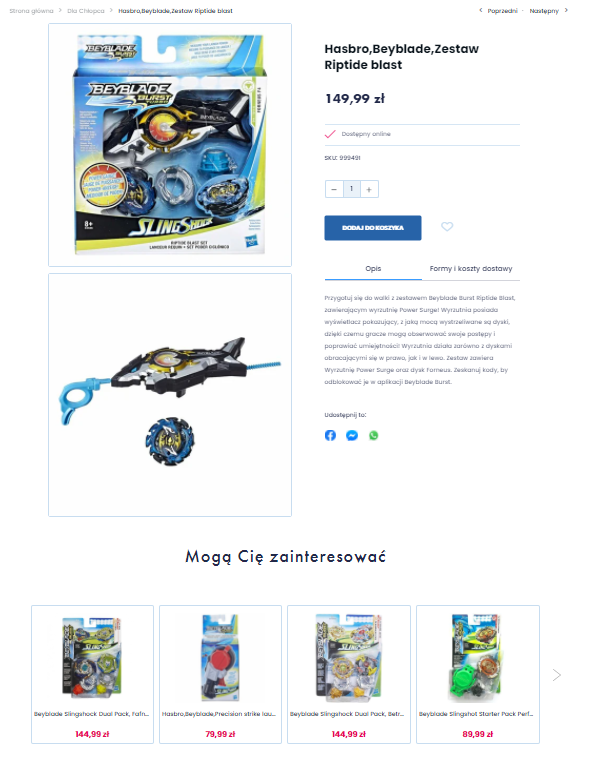 The number of elements that must be kept in mind when building a product sheet and the entire catalog in an online store may be difficult to manage on your own. To facilitate the product information management (PIM), it is worth using special external tools.
2. Category page
The category page which is organized, intuitive and designed with a positive shopping experience in mind, is the basis of every modern online store. This is where visitors get to know the entire catalog of the store.

The key issue in creating a product category page is determining the order of the elements, the so-called visual hierarchy. This is an absolute foundation when designing websites.

The content of the website should be organized so that the user does not have to think about where to find something. The product must be found quickly. In other words, you need to stay ahead of the customer by using your knowledge of the needs and purchasing habits of your target audience. Thorough research will definitely help in this.

As ConversionXL recommends in its guide to successful eCommerce practices, the first thing to do is decide on the layout of the subcategories.

If you have a large assortment and various types of products from many manufacturers, make it easier for your customers to navigate and follow the example of major online stores such as Zalando or Amazon.

What the largest eCommerce stores do is build a well-developed network of subcategories, i.e. Main Category -> Category -> Subcategory -> Subcategory 2 -> Subcategory 3 etc. itd.

An example of a layout of several categories: Interiors -> Lighting -> Wall and ceiling lighting -> Wall lamps

You can also opt for a simplified version: category -> subcategory, for example Lighting -> Wall lamps

In order to facilitate navigation, limit the number of subcategories to four. With more, it is easier to confuse the user. Our goal is for the user to find what they are looking for as soon as possible.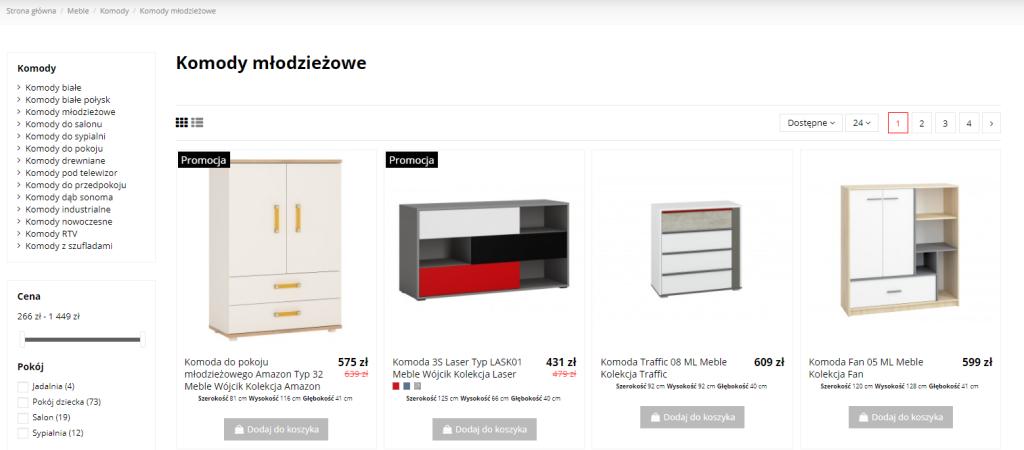 On the category page itself, you should put a short and clear headline that will immediately tell the user what page they are on.

In turn, on the top and side of the page, horizontally and vertically place the list with links to the previous categories..

Continuing the lighting example, if the user, after reviewing all available wall lamps, would like to see chandeliers, they will be able to immediately go back to the Wall and ceiling lighting category, and then go to the chandeliers subcategory.

An additional advantage of a well-organized category page is that by choosing external marketing automation tools, such as, for example, product recommendations, you will not have a problem with integration. A well-designed innovative eCommerce store will deliver the necessary tags and data faster, which are crucial for tools based on artificial intelligence.
3. Readable homepage
As we agreed earlier, the purchasing path starts at different places on the website. It can be a product page, but also a home page, which is a showcase of an eCommerce store.

If users visit your site because they know the brand and have no precise choice, they just want to see what the store has to offer - most likely they will start navigating from the home page.

Only the most important and necessary information and visual elements should appear on the home page, arranged from the most important to the least important..

However, avoid those that are not absolutely essential. This will help maintain the simplicity, legibility and minimalist style that characterize modern eCommerce stores.

The most important information should be located at the very top of the page and take the form of large elements, because they draw our attention the most.

The necessary elements of the home page of the online store are:
Menu with the offer - one of the most important elements of the online store, it should be in the central part of the page, contrast with the background and have white space, i.e. empty space around it.
Content menu - i.e. FAQ, blog, contact, log in, favorites, shopping cart. These are important elements, but from the sales point of view, they are less important than the offer, therefore the content menu should be smaller than the menu with the offer and not stand out visually.
Intelligent search engine - that is using the machine learning mechanism in practice. Smart search helps you find products without typing the product name correctly.
Value proposition - a short text which contains a proposition of value offered by the brand that distinguishes it from the competition.
A prominent CTA button located according to the Above the Fold principle, i.e. in the area of the page that the user sees before scrolling.
Picture categories - thumbnails with pictures of products should symbolize a given category. For example: if you offer kitchen furniture, bedroom furniture, office furniture, etc., the thumbnail should contain an example photo of the interior of the kitchen, bedroom, office, etc.
Additional elements, such as recommendations and special offers, should be consistent with the appearance of the website and be surrounded by white space.
4. Personalization
Personalization is one of the hottest trends in eCommerce today, which we have already mentioned on our blog.

Personalization of eCommerce is the process of providing personal experiences on the websites of online stores by dynamically displaying content based on the previous behavior and preferences of individual customers.

In recent years, customers of eCommerce sites have begun to take it for granted that the presented offers and content will be tailored to their needs.

According to Janrain's research, 74% of customers do not like it when the store's website presents them with things they do not find interesting. Moreover, as many as 80% of people who frequently shop online use only brand offers that personalize their experience.

As Shopify points out, good eCommerce personalization should:
meet all user needs,
aim at providing each visitor with recommendations of the highest quality,
use personalization tools that guarantee a satisfactory return on investment.
Recently, many innovative eCommerce tools have appeared on the market, the main goal of which is to improve the level of personalization of user experience. Each of them focuses on different areas of the store's activity.

The most important solutions for online stores affecting personalization include:
Pop-ups,
Intelligent product recommendations,
Personalized banners and newsletters,
Mailing campaigns using data from customer databases,
Intelligent search engines,
Solutions enabling the introduction of up-selling and cross-selling.
The data speaks for itself: 66% of consumers say encountering non-personalized content would stop them from making a purchase.

This means that increasing the level of personalization of the store's website should be a very important element in building an online store development strategy.
5. Detailed product description
Detailed descriptions of the products in the store's offer are extremely important for two main reasons:
provide customers with information on products that are necessary to make a purchase decision;
are an important element of website optimization in terms of SEO
The term SEO (Search Engine Optimization) means optimization of the website in terms of visibility in search engines. The better the visibility of your store's page in search results, the more likely it is to attract the attention of potential customers, thereby increasing sales and conversions.

According to the latest research by Backlinko, the first result in Google's organic search results has an average CTR of 31.7% and is 10 times more likely to get a click than the page in 10th place..

This shows that working to make your online store page appear high in Google search results should be one of the key elements of any marketing strategy. Solid product descriptions are its most important element.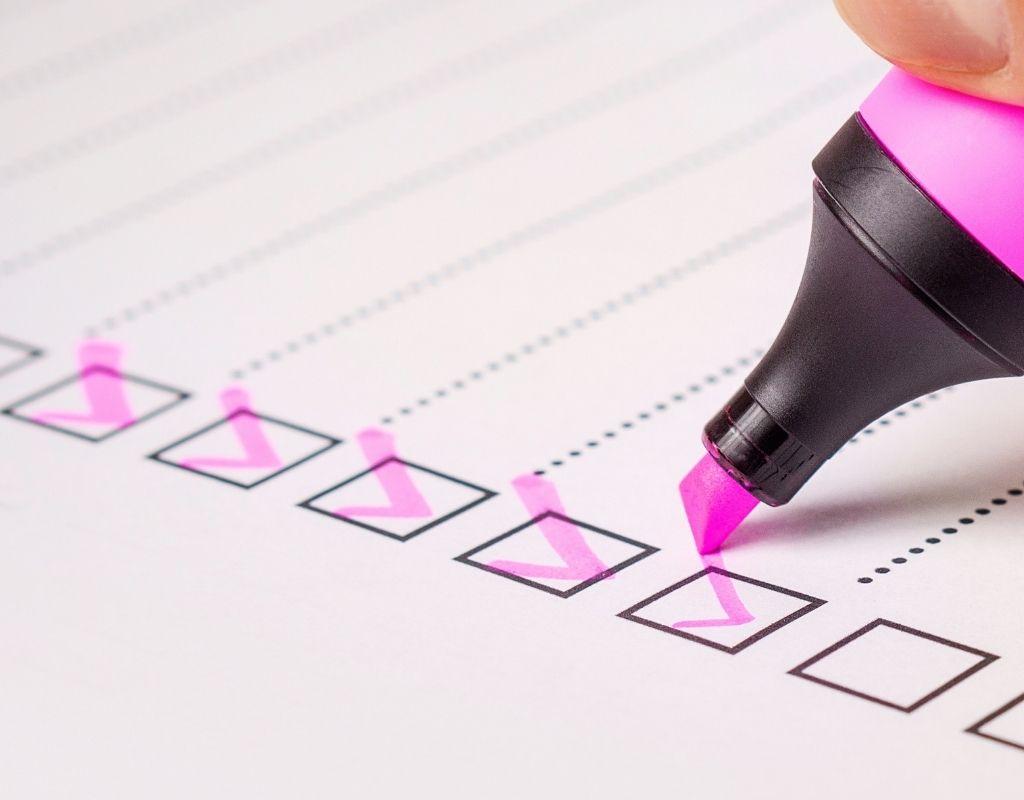 Make sure all items in the catalog have descriptions with keywords that relate to your business profile. This will make the store's website more visible to search engines, which will translate into better sales results.

It is also worth noting that product descriptions should be exhaustive, marked with keywords not only for better visibility in search engines, but also so that the customer does not have to spend time looking for information about the product in other places.

As a result, after entering the store's website, the user will be able to quickly find the product they are interested in and will not have to visit other (often competing websites) in order to look for additional information or more detailed specifications.

Descriptions should not be copied from the manufacturer's website, it is worth using your own language that identifies your brand.

This will result in increased engagement rates and an improved level of user experience.
6. Notification of product availability
As we wrote in the previous section, SEO is an extremely important aspect of running a marketing strategy.

So it's worth noting that inaccessible products, when not handled properly, can have a strong negative impact on both the user experience and your conversion rate.

We can distinguish the 3 most important reasons why the product is unavailable in the store:
The product is temporarily unavailable and will be back soon.
The product is out of stock but will eventually be back. This may also include seasonal unavailability.
The product is permanently unavailable or discontinued.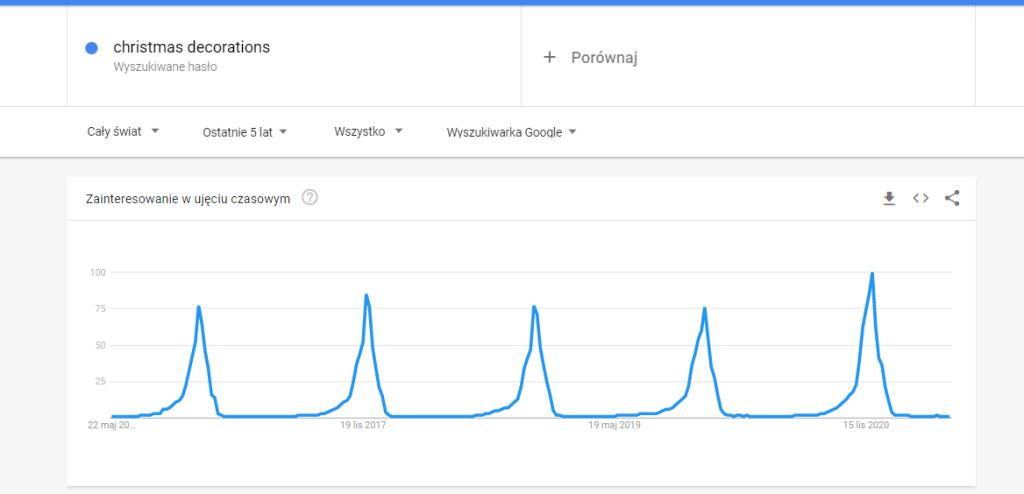 When a customer enters a product's page and sees it is unavailable, they will most likely leave the store's website, going to the competition.

Due to this, it becomes extremely crucial to keep the customer's attention, encourage them to stay on the site and shift traffic to another, available product.

To keep customers' attention after entering an unavailable product page, the online store can:
recommend similar products,
reassure customers that products will reappear soon,
create a custom 404 page presenting product recommendations,
leave space for an email address to automatically inform the user when the product is back in the offer,
use special meta-tags to protect the store page against the negative effects of indexing pages of inaccessible products by the Google search engine.
Fortunately, innovative eCommerce tools, whose presence is becoming more and more visible on the current Internet sales market, come with the help in managing websites with unavailable products.

According to a study by the Consumer Brands Association in many online stores in seven different countries, even one in five products offered online is unavailable.

Due to this, the use of innovative solutions to reduce the number of customers leaving the store as soon as they enter a page with an unavailable product, will give your website a strategic advantage over the competition.
7. Professional product photos
Internet users appreciate the simplicity and clarity of websites.

When preparing catalog photos, remember to focus on what is most important - the product. Choose a solid (preferably white or light gray) background in the main product photos.

At the same time, try to make the photo reflect the look & feel of the product. In addition to the main photos showing the product features, arrange the session in various arrangements so that the customer can identify with the product.

For example:
if you sell bedroom furniture - show the collection in a real interior and in different light;
if you sell clothing - present the clothes in several combinations and on models representing different types of beauty.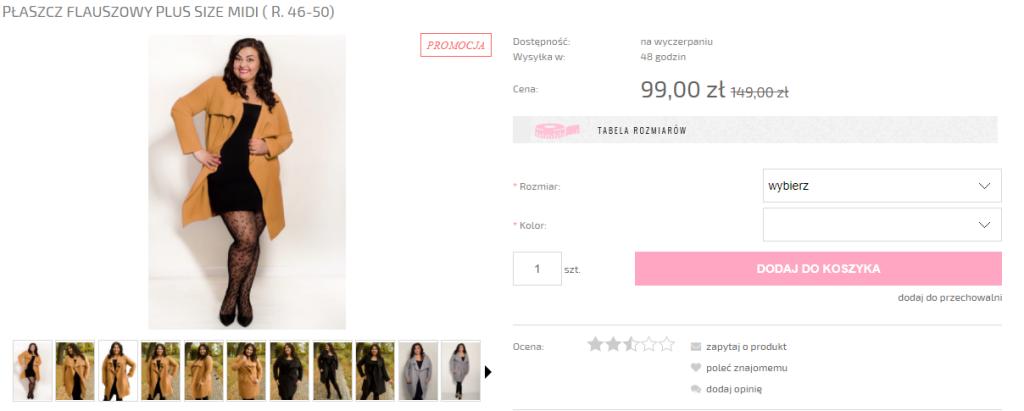 This way, the customer will find out what the product looks like under different circumstances, what its actual size, etc.

An interesting and effective procedure are 3D photos, the possibility of zooming in or a short video in which you can see the product in motion.
8. Mobile version
When designing the design of a modern website, the key is to refine all aspects not only in the web version, but also in the mobile version.

In the context of online shopping, this is a particularly important issue, especially taking into account the fact that the number of Internet users buying via mobile devices increases significantly from year to year.

According to the ECommerce in Poland 2020 report, Gemius for eCommerce Polska, the most purchases are still made by laptops. It is worth noting, however, that currently as many as ⅔ of online buyers use smartphones..

According to the report, the main reasons why users give up shopping via mobile devices are: inconvenient filling in forms (45% of respondents) and inadequate layout of eCommerce shop websites to mobile devices (39% of respondents)..

Frequent difficulties are also the inconvenient payment method and too small fonts on the page (for people over 50).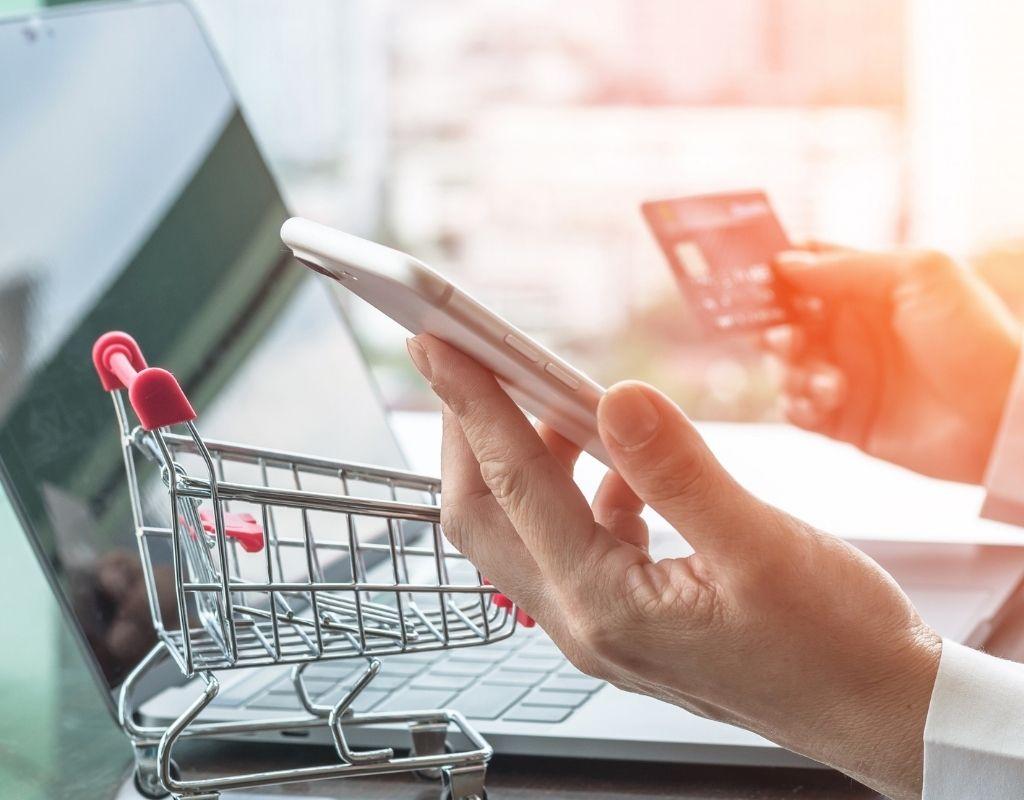 Undoubtedly, this is valuable information for eCommerce managers, developers and store owners. When designing a mobile version of your store page, you should facilitate the purchasing process so that the user does not have to go to the computer to complete the shopping.

Currently, multichanneling, i.e. starting shopping using a mobile device, and finalizing transactions on a computer, is a very common form of online shopping (declared by 51% of respondents).

It is therefore worth providing the users of the mobile version with the best user experience (UX) and intuitive solutions, especially taking into account filling out forms, payment and adapting the website to smartphones and tablets.
9. Comparison of prices and specifications
Comparison shopping engines (CSEs) give eCommerce sellers the ability to:
better adaptation of the offer to the needs of customers,
increasing sales thanks to price optimization,
face the competition.
Their primary task is to collect information about products, including competitors' prices, and then display this data on one result page in response to a user's query.

This allows online shoppers to compare prices, shipping options and services from multiple vendors on one page and select the item with the best offer.

For eCommerce sellers, price comparison websites are an ideal opportunity to present their products to interested users. It should be noted that users browsing virtual price comparison websites usually have already made a purchasing decision and are now only looking for the most attractive price for a given product.

It is worth adding that price comparison websites are especially useful during the holiday shopping season, when offers and discounts may change over the course of days and hours, and commercial holidays such as Black Friday and Cyber Monday dramatically increase competition on the eCommerce market.

The most important price comparison websites (Polish and foreign) used by store customers include:
Ceneo,
Google Shopping,
Skąpiec.pl,
PriceGrabber,
Shopzilla.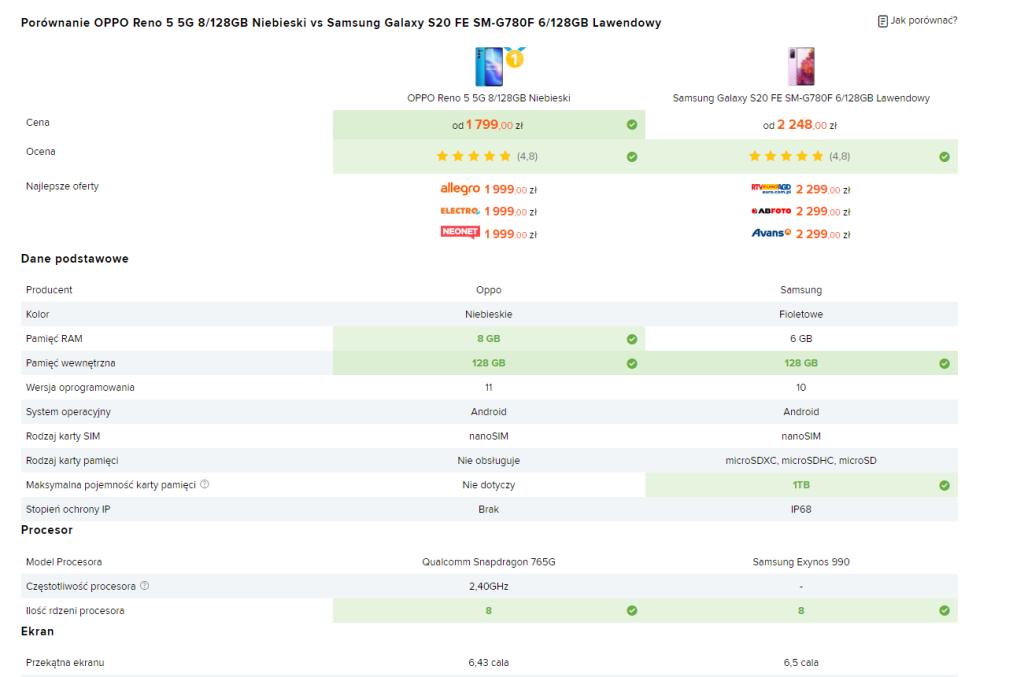 However, many eCommerce platforms such as Shopify have created various types of innovative solutions that are designed to help the store owner and automate the comparison and positioning of the store's price offer.

Below are some of the most important smart price comparison websites:
Price Comparison by Vishal
Prisync
PriceMole
CompareIt!
BeezUP
10. Search engine
An eCommerce search engine is a search engine that is built-in or directly integrated with a given online store, and its main task is to find products searched by the user by identifying and matching keywords..

The smooth operation of the store search engine is an important component of store navigation, which is crucial in keeping the bounce rate low and customer retention high.

A Forrester study found that 8 out of 10 users will drop an online store if it does not provide the customer with convenient site navigation or relevant store search engine results.

You think that search engine windows have been replaced by neat and sorted product categories? Nothing could be more wrong!

Research shows that up to 33% of all visitors to an online store use the website search function..

Moreover, users who use the store's search engine typically visit the site with the intention of purchasing. As a result, it is estimated that they are even 6 times more likely to convert!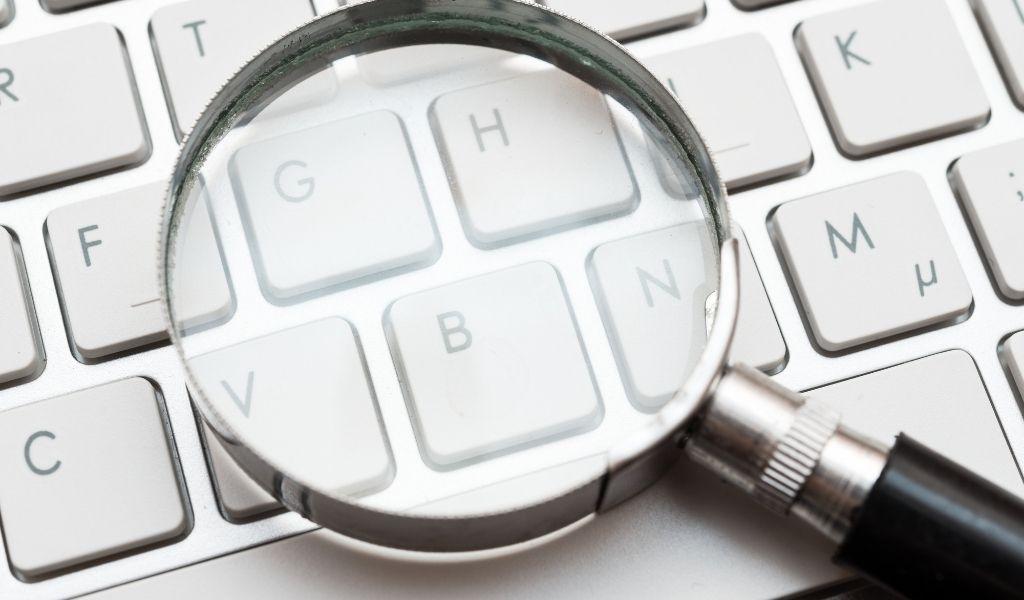 For a long time, the engines of the most popular search engines such as Google use advanced artificial intelligence algorithms that predict the phrase entered by the user in real time after entering just a few characters.

Recently, many innovative tools have appeared on the market that allow online stores to use the same technology to improve the customer experience.

An additional advantage of search engines is the ability to independently view what your customers are looking for.

By analyzing user queries in Google Analytics, you get valuable information about their needs. For example, if your customers frequently search for natural nettle shampoo and your product range does not include this product, consider adding it to your offer.
11. Simple navigation through the store
Fast. Straight. Intuitive. This is what the website of every modern eCommerce shop should be like.

ConversionXL, in its proprietary eCommerce best practice guide, recommends:
Choose widely recognizable, universal icons. Unpopular icons run the risk of not being understood.
Set to automatically change the color of hyperlinks on hovering over and / or clicking on a link.
Place a clickable logo on the top and left with a link to the home page on each subpage of the store.
The navigation bar should be stationary and always visible while scrolling and moving between subpages.
Limit the number of items in the menu for greater clarity.
Make sure that your choice of options is described in plain language. Preferably one or two words (for example: View Cart, Next, Pay, Others Viewed).
Create a drop down menu for easier eye scanning.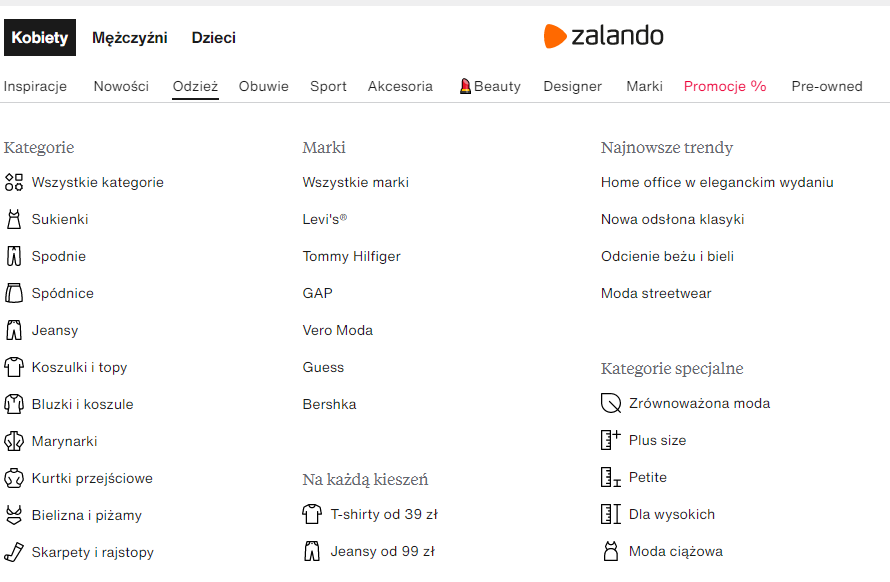 12. Chatbot - virtual assistant
Chatbots are a computer program that, thanks to artificial intelligence, can conduct a conversation with the user, thus acting as a virtual assistant.

The system is based on machine learning technology, allowing for automatic answering of simple, often repeated questions..

Such a system selects better and better answers over time and learns the questions received by users. This means that the longer a chatbot receives data, the more effective it is.

Thanks to such a virtual assistant, the online store has a chance of more new and returning customers. In addition, analyzing customer inquiries, we receive valuable information about their needs, requirements and preferences.

Moreover, automated customer service saves time not only for employees but also for customers, as they receive an answer immediately.

This type of intelligent and automated customer service tools are an inseparable element of an innovative eCommerce store that strives for customer service at the highest level.
13. Personalized product recommendations
As mentioned above, product recommendations can have many uses in an online store. This intelligent solution is an inseparable part of every modern eCommerce store that is looking for a way to:
increasing the contents of the shopping cart;
reclaiming traffic on pages of unavailable products;
applying an effective cross-selling technique;
facilitate navigation around the store;
Increasing the CTR ratio, and much more.
On our blog, in the post Recommendation System for Ecommerce: How to Automatically Recommend Products in an Online Store, we write in detail about how the product recommendation engine works and how it selects the right purchase suggestions.

The window with recommendations can be located on various subpages of the store. The statistics of actual implementations indicate that the locations of recommendations with the greatest potential for increasing revenue are (in order from the most effective):
Product page
Category page
Pop-up after adding to cart
Store home page
Shopping cart
Blog article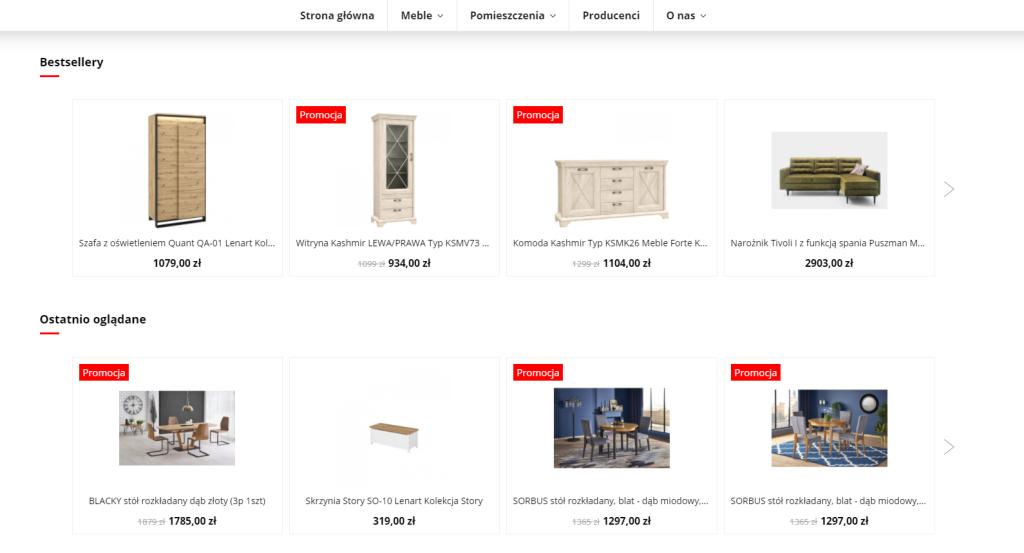 The product recommendation engine is capable of generating multiple recommendation models

The most popular are:
Similar products
Most viewed products
Others viewed
Recently viewed items
Bestsellers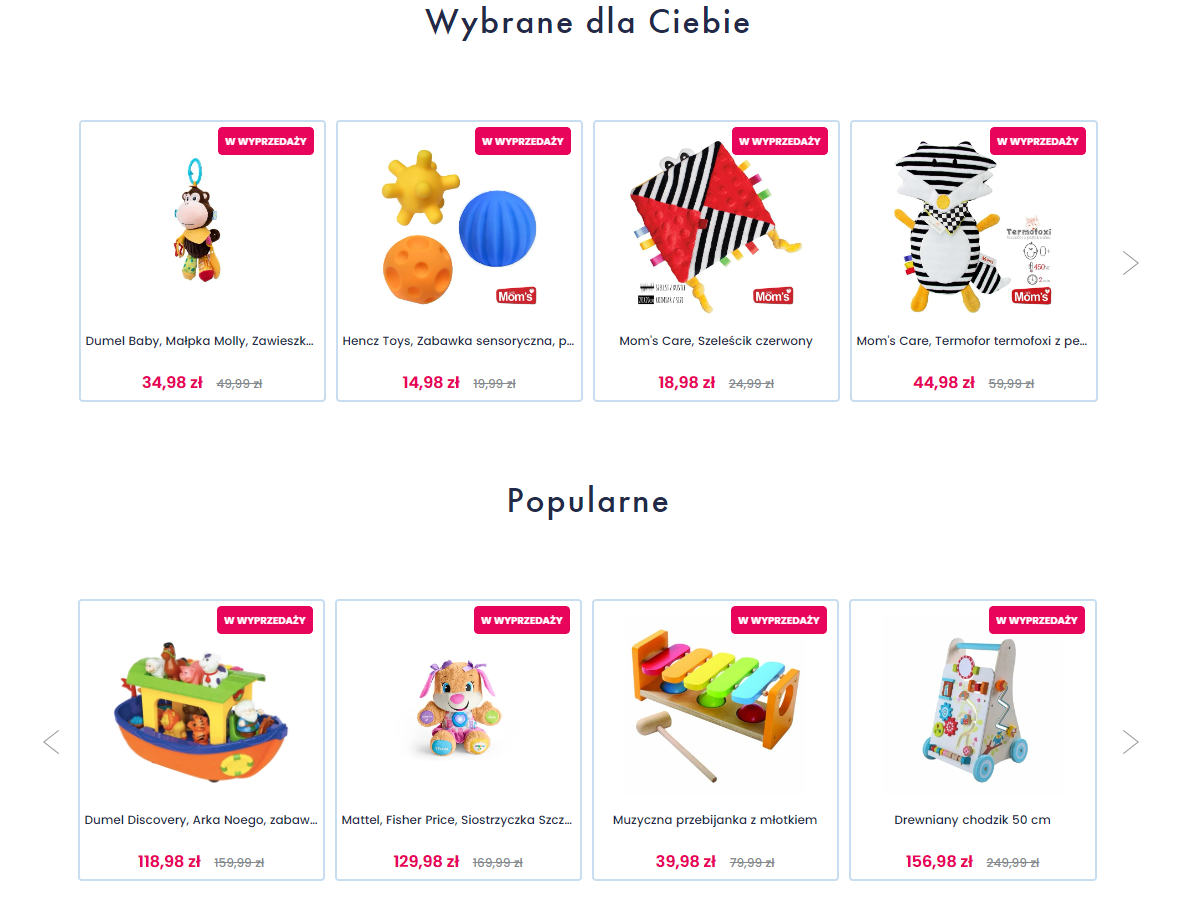 14. Opinions
What do we do when we cannot physically touch or try a product? We check its opinions and reviews on the web.

Currently, virtually all the largest eCommerce websites under the products they offer present customer opinions about them.

In today's digital shopping world, most of us read online reviews. The data shows that as many as 91% of people view customer reviews before making a purchase, and 84% trust them as much as a personal recommendation from someone they know.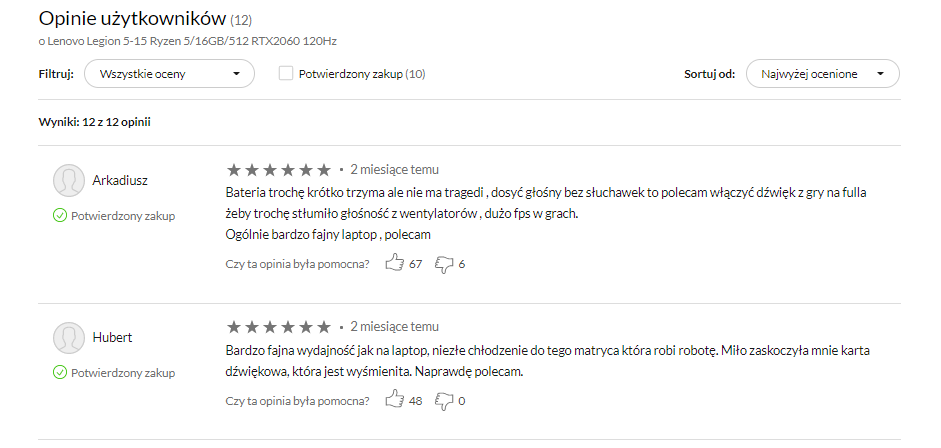 Presenting customer opinions and reviews has a positive impact on the sales results of the store. It makes it easier for users to trust a given brand. Research shows that the probability of selling products is on average 270% higher when the online store presents users with at least 5 reviews of other customers.

There are several eCommerce tools that modern online stores can use to automatically collect and present customer feedback:
Google reviews,
Yelp!
Facebook reviews
Online reviews are a great strategy to use word-of-mouth marketing when direct contact with the customer is impossible. This solution provides customers of online stores with a more objective and honest view of the offered assortment of products.
Summary of the checklist
In the first part of our ECommerce Checklist, we presented 14 tips and ideas on how to improve your online store and make it focused on the users' shopping experience.

We selected the basic elements and features of a modern online store, putting great emphasis on simple solutions based on artificial intelligence and machine learning technology. In the second part of our checklist, we will supplement it with additional solutions, such as a dedicated mobile application, loyalty system or issues related to delivery and payment.