8 Ways to Recover Abandoned Carts in the Online Store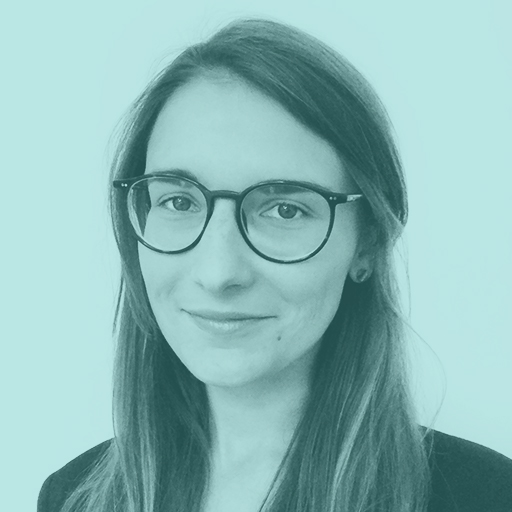 Zuzanna Pajorska
23 March 2021
9 min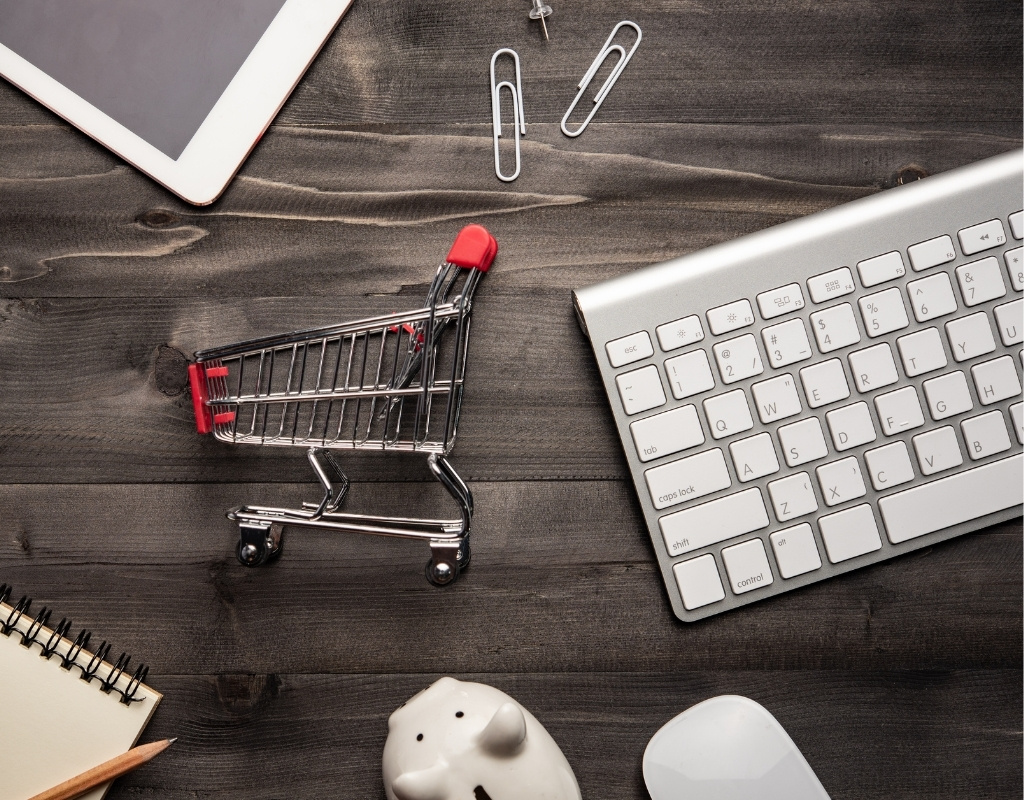 When running any business, whether online or brick and mortar, you can often encounter the problem of customer attrition of those customers who previously used the services constantly or regularly bought the offered products. This issue is well known to the online store administrators, because the problem of abandoned carts in the store is their daily bread and butter. What activities are worth investing in to recover abandoned carts and make customers come back?

Today, we present you 8 effective ways to recover customers and retain them in your store.
Take Care of your Regular Customer As Well As of a New One
It has been known for a long time in the eCommerce world that retaining existing customers is cheaper and sometimes easier than acquiring new ones. There are thousands of ways to draw new consumers' attention to your store's offers and make purchases, and that is a topic for a several-volume book on marketing. In this article, we will briefly discuss the best steps to take so that customers who have trusted you once stay with you for longer and be happy to come back. Good quality products tailored to the needs of a customer who perfectly fits your persona is a fundamental issue, but not the only one that needs to be addressed to gain the trust and loyalty of customers.

It might seem that actions to recover abandoned shopping carts in the store should be undertaken only by smaller online stores that have not yet established themselves on the market and must include building consumer trust in their business strategy. However, it is worth remembering that well-established brands such as Nike, Wedel or Heinz, just as the smaller ones, have to adapt to the changing realities in the world of trade. In the year 2021, every online store, regardless of the size and quality of the assortment of products, should focus on existing customers and ensure that they return to the store and do not leave the store until they finalized their purchases.
Find Out the Reason for Abandoning the Shopping Cart
The first step in drawing up a plan to reduce cart abandonment and win back repeat customers is to answer the question: why? Obtaining a direct response from a regular customer is of course possible, but not necessarily simple. One of the effective and quick ways of finding out why a loyal and returning customer has decided to resign from your offer and buy from competitors is sending an email. Taking a moment to find a customer's e-mail address in your CRM can be a great time investment to get to know your customer's opinion. Send him a short message in which the former customer will be able to provide honest feedback. However, if the number of clients is too large and the client turnover is high, it is worth automating this process. By integrating CRM with the mailing system, the system will be able to send a personalized email to a user who has not been active for a long time.

Knowing the answer, you will be able to identify what you are doing wrong or what is faulty in your store. Maybe it is worth changing the website design? Or maybe the user experience (UX) needs improvement? Or the website is too slow and it is worth improving its performance? Consider all comments about your store, customer service, assortment of products, payment system and the like, and make a list of those store elements that need improvement.
Collect Customer Feedback On an Ongoing Basis
An indirect way to get to know the opinions about your store on an ongoing basis is Google or its own, independent system of issuing product reviews. Nowadays, consumers are eager to leave and read the ratings of others. Before making purchases, they verify if the description matches the product based on the experiences of other customers or compare which product or store is the highest in the ranking created by users.

Therefore, it is worth making sure that your client leaves feedback on the transaction or the entire shopping experience immediately after the purchase. We will write more about social proof as a way to retain a customer in the store in the further part of today's post, but here we want to emphasize how important it is to collect opinions not only for other consumers (thus providing social proof), but for yourself. This is very valuable knowledge about your customers' shopping experience and one of the most reliable sources of information on why the customer left and what caused their dissatisfaction.


8 Effective Ways to Recover an Abandoned Shopping Cart
1. Personalization
Who doesn't like to feel special? More and more consumers say that they prefer stores whose offer and communication are tailored to their needs. There are many ways to personalize in the store – starting from unique newsletters, through an intelligent product search engine, to profiled advertising campaigns on the Internet, tailored to the preferences and tastes of the user and, finally, through the use of remarketing. The use of personalized solutions and tailored offers in relation to interests, location, age group, browsing history during the last sessions reduces the risk that the customer will abandon the store.
2. Product Recommendations
Personalized product recommendations is a solution based on artificial intelligence (AI) and machine learning technology that generates tailored and relevant item proposals. This is one of the most advanced forms of shopping personalization, which translates into real sales. The results of Recostream implementations indicate that as many as 35% of clicks on AI recommendations end with a purchase. The impact of recommendations on store metrics can be easily and objectively measured using Google Analytics.

A banner with other products to buy can be placed in different locations. To have a real impact on reducing the cart abandonment rate, the most effective option will be to install a pop-up on the page of an unavailable product, which will inform you about the availability of similar products. In this way, traffic will be directed to other product pages that will meet the expectations.

A popular option that allows you to reduce the number of cart abandonments is also placing self-defined recommendations (Rule-Driven Recommendations) on the shopping cart page, i.e. at the very end of the shopping path.
3. Detailed description and language of the benefits
Lack of sufficient information about the product you want to purchase can be frustrating. A conscious customer will expect all necessary information to be included in the product specification. When describing a product, try not to omit anything that could influence your potential consumer's purchasing decision.

Let's look at an example. Do you sell clothing, but some products lack information about the fabric composition? A conscious consumer who buys clothes made of good quality materials will look at the virtual price tag. If he does not find information about the ingredients on the product page of a given product, he will give up the purchase or look for this information elsewhere, which increases the risk that he will buy a similar product from a competitor.

Properly detailed descriptions of products have more advantages than you might think. They not only inspire customer trust, but also build the image of a reliable and authentic brand and help make purchasing decisions. A definite plus is also the impact of the description content on SEO. When creating a product description, we must use keywords. The more relevant phrases, the greater the visibility in browsers. Such a strategy increases the chance that a customer will find your website while searching for a specific product.
4. Pop-up Windows
What if the cart is full and the customer has been inactive for a long time? Surprise him with a nice pop-up with a set of recommended products that he will like. Thanks to machine learning technology, the system is able to predict whether a given customer will be interested in it and add it to the cart.

A pop-up will inform the customer that the product is unavailable and propose a satisfactory alternative. It can also serve as a notification that a given product has been added to the shopping cart and provide information about the current promotion or special offer for regular customers. It is also an effective and popular form of encouraging people to subscribe to the newsletter, which will be discussed in the next subsection.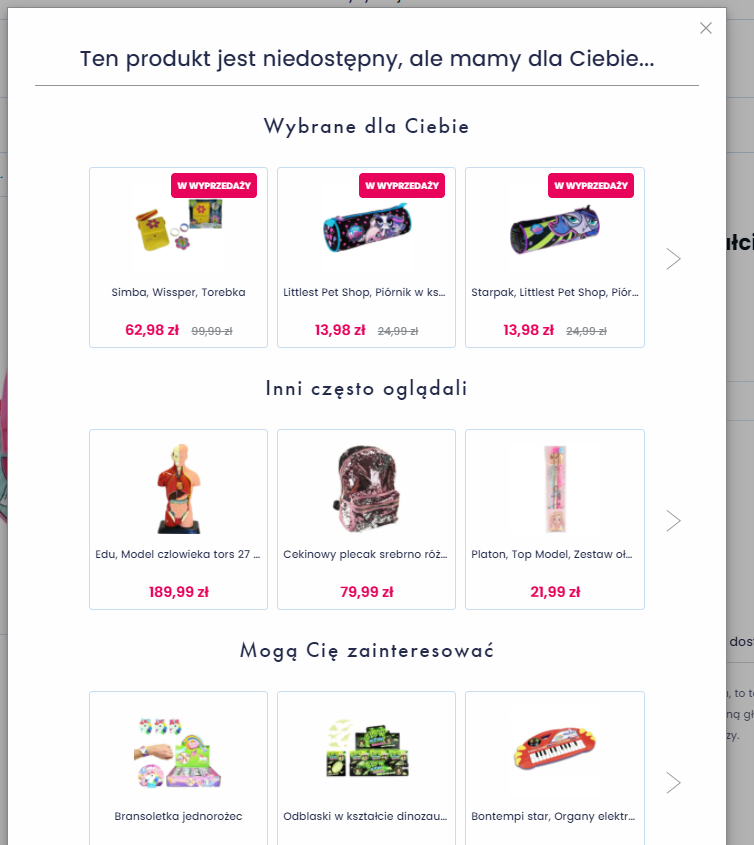 5. Get in Touch
And stay in touch. To encourage the existing customer to buy again, make him feel special in your store and take measures to ensure that he remembers about you. Offer a discount for the consecutive shopping after subscribing to the newsletter and create a contact database. The mailbox is still the most popular communication channel - take advantage of it! Notify the customer that the product they liked is back on sale, send a happy birthday and attach an individual discount code or inform about new products.

In other words - take care of a good relationship with your regular customer in the most individualized manner. Although this conversion strategy consumes a lot of time and financial resources, it effectively keeps the customer with you for longer and prevents cart abandonment in the future.
6. Building a Community in Facebook Groups
This has been one of the most popular forms of image building and gaining new customers in social channels recently. For many eCommerce brands, building an engaged community is the first step to creating a loyal group of regular customers. While the Facebook feed is full of advertisements, users prefer to spend their time in groups, where they get independent knowledge from other users and can share their experiences also about the purchasing process. As a group administrator, you can encourage discussions, support a knowledge-sharing culture, answer consumer questions, but most of all, create a space that will connect members with similar interests.

It may happen that users will discuss topics not only related to your brand. And it is great! This group will become the best source of knowledge about your current and potential customers. This will help you build communication and campaigns fully tailored to them. By listening to their needs, you will know what will encourage them to visit your store and stay there.

Building a community in a Facebook group or on another social platform is also one of the forms of strengthening social proof, more about which later in the post.
7. Loyalty Program
Another great way to build a large group of regular customers is to create a loyalty program. Treat regular customers of your online store in the same way as the largest eCommerce brands: Decathlon, Żabka, Castorama, Hebe or Rossmann do it. In spite of appearances, this is not a solution reserved exclusively for stores that have their brick and mortar counterpart. Any size store with the goal of building a solid customer relationship and reducing bounce rates should consider this option.

There are many forms of loyalty programs. The Supersklep clothing online store from Poland provides a successful example of a loyalty program. Each customer automatically becomes a member of the SuperClub, which allows you to make purchases on better terms and enjoy many privileges. After each purchase, the customer receives loyalty points that can be used during the next visit to the store and receive special discounts.

Another form of the loyalty program is the creation of a dedicated mobile application for the online store. Thanks to such an application, customers who trust your brand can be informed on an ongoing basis and be the first to know about the latest products, promotions and special offers. A well-designed UX (user experience) will make the purchasing process simple and pleasant for the user and will reduce the risk of the shopping cart abandonment.

More and more consumers do shopping through mobile applications (mCommerce). This is a trend that has grown and will continue to grow due to the COVID-19 pandemic. According to eMarketer forecasts, in the year 2021 sales via mobile eCommerce will total as much as 54%. This is the best time to adapt your store to the mobile version or a dedicated, well-designed application that allows the introduction of a loyalty program for regular customers.
6. Social Proof
Hardly any marketing automation solution will influence the customer's purchasing decision more effectively than social proof. There are many ways to create an image of a reliable brand. You do not have to use each one right away, but it is definitely worth putting them on your road map. The most popular ways to provide social proof in eCommerce are:
users' opinions,
comments from satisfied customers,
issuing stars or ratings,
placing products in rankings,
publishing case studies,
transparent communication (sharing numbers, results, documentation),
placing logos of existing customers and partners in a special place on the home page.

When placing product recommendations in order to reduce the risk of the customer leaving the store without buying, it is worth using one of the eight recommendation models - "Others watched". Along with the opinions, it is one of the most effective techniques of building social proof, which translates into suggesting - using machine learning - a product that is popular among other customers with similar purchasing preferences.

Summary

You have learned 8 effective and proven ways to recover abandoned shopping carts in the store and encourage regular customers to return to the store. Most of them are also used to attract new customers. It is worth implementing external tools, which often offer a one-month trial period, during which you can check methods to save abandoned carts and reduce the bounce rate.